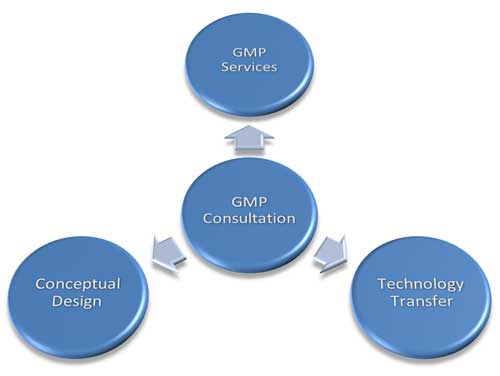 what we can carry out
GMP Consultation Services
TAG-GMP assists and advises companies on compliance with cGMP according to the MOH requirements & international requirements. We review general GMP compliance or focus on specific issues of concern and advice on potential solutions.
Simulated GMP inspections are a specialty of TAG-GMP, they:
Assist the customer to prepare for inspections by Egyptian MOH authority, GCC & any external audits.
Improve self-inspection program.
Stress test system and personnel within safe environment.
Improve staff confidence in relation to regulatory inspections.
Risk assessment studies :-
Quality risk management is a systematic process for the assessment, control, communication and review of risks to the quality of the drug (medicinal) product across the product lifecycle. A model for quality risk management is outlined in the diagram (Figure 1). Other models could be used. The emphasis on each component of the framework might differ from case to case but a robust process will incorporate consideration of all the elements at a level of detail that is commensurate with the specific risk.   Overview of a typical quality risk management process
Quality management systems :-
TAG-GMP provides assistance and advice regarding the implementation and maintenance of effective Quality Management System for GMP.
Inspection & New license preparation:-
Apart from using simulation inspection as inspection preparation, there are a number of other ways in which TAG-GMP can assist companies preparing for regulatory inspection. This assistance can be performed at various stages of the inspection cycle ; pre-inspection , during the inspection or post-inspection (strategies for inspection follow-up , responses to reports)
Process validation (Prospective – Retrospective – Concurrent)
Cleaning validation
PQ for the production machines and Lab equipment
Holding time
TAG-GMP provides training to customer personnel in all areas of GMP. This training is delivered on-site in the form of a training course or is provided as part of the above services.
The Conceptual Design is based on the Business Plan guidelines which define in detail which products to manufacture, and lots and volumes and pharmaceutical processes that will be used. Equipment, machinery and technology, as well as all auxiliary facilities are identified and sized. Required buildings and rooms as well as the interactions between them are planned to facilitate the flow of production. Finally, a project timetable is established and determined and the costs associated with the project are detailed. TAG-GMP can perform all the tasks that a conceptual design must include for the project to comply with customer expectations in terms of the end goal for which it is proposed, as well as cost and implementation schedule. Among other activities it would include:
Product Definition
Definition of production and analytical processes
Selection of technologies and equipment
Definition of volumes and lots sizes
Definition of product requirements
Definition and sizing of services
Proposed Layout
Making pharmaceutical plans (guest areas, pressures, flows of materials and people, implementation of equipment)
Preliminary verification of the adequacy of the project with regulatory agencies
Project Timeline
Investment proposal
Transfer of technology is defined as "a logical procedure that controls the transfer of any process together with its documentation and professional expertise between development and manufacture or between manufacture sites". Technology transfer is both integral and critical to the drug discovery and development process for new medicinal products. TAG-GMP help to develop dosage forms in various ways as it provides efficiency in process maintains quality of product helps to achieve standardized process which facilitates cost effective production. It is the process by which an original innovator of technology makes its technology available to commercial partner that will exploit the technology. Technology transfer is both integral and critical to drug discovery and development for new medicinal products. In pharmaceutical industry, "Technology Transfer" refers to the processes of successful progress from drug discovery to product development, clinical trials and ultimately full-scale commercialization. TAG-GMP can support the processes that are needed for successful progress from drug discovery to product development to clinical trials to full- scale commercialization or it is the process by which a developer of technology makes its technology available to commercial partner that will exploit the technology. Technology transfer is important for such research to materialize on a larger scale for commercialization especially in the case of developing product. Technology transfer includes not only the patentable aspects of production but also includes the business processes, such as knowledge and skills.